Waukesha Water Damage Restoration
Call ERS immediately before the water absorbs deeper into the structure of your home or business.
We hustle so you can save money. We will get to any location in Waukesha in under 60 minutes.
24/7 Emergency response


414-571-9977


WAUKESHA WATER DAMAGE CLEANUP
EMERGENCY WATER REMOVAL AND FLOOD DAMAGE RESTORATION
When you come home to find water sitting stagnant on the floor or dripping down your walls, call our water removal and flood restoration specialists, no matter what time it is. Our certified technicians are happy to relieve your panic and send help right away.
We're here 24/7 to drain & dry any flooding and repair the water damage. We can get our restoration specialists in Waukesha within an hour. A fast response will dramatically reduce the water damage suffered by your building.
CAUSES OF FLOODING AND WATER DAMAGE
Flooding can come from sump pump failures, plumbing fixture failures, drain overflows, or groundwater overflows. Melting snow in the spring and heavy rains during the summer and fall can also lead to severe flooding and water damage, especially near the Fox River and other flood prone areas. Wherever the water comes from, it's important to get the water removed and the damage repaired as soon as possible to keep the problems from getting worse.
Although some flood damage is obvious, other problems are easier to miss and can cause disastrous damage if not repaired. The longer you wait to call our water damage restoration experts, the worse the damage to your home becomes. Our emergency water removal and restoration specialists can be there faster than anyone else to clean up the water before the damage can spread to include:
Ruined furniture, valuables, and electronics
Mold growth
Decreased property value
More costly repairs in the future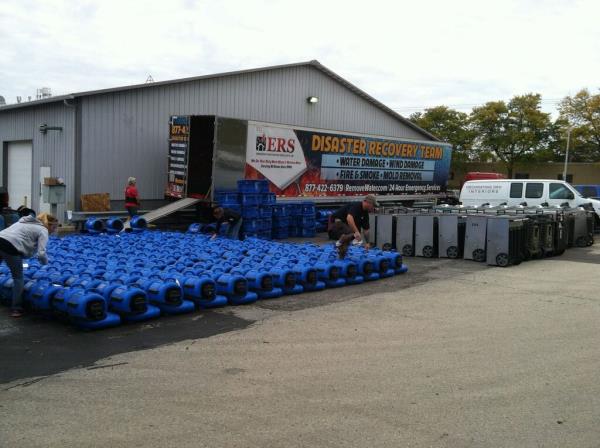 Blower fans and other drying equipment. A fraction of our inventory.
If you want to minimize the damage as quickly as possible, contact ERS professional water removal experts.
Our Emergency Restoration Specialists offer a variety of water removal methods and restoration services including:
Water pumping and drainage
Injectidrying and blow drying
Damaged floor, wall, and ceiling removal and replacement
Carpet cleaning and replacement
Mold removal
Decontamination
Furniture cleaning
Other repairs
Save your home and save thousands of dollars on property damage with the help of ERS restoration experts.
PROFESSIONAL FLOOD CLEANUP SERVICES
Along with removing flood water and repairing water damage, our certified technicians offer a variety of cleanup services, including:
Smoke and fire damage repair
Mold removal
Special cleanup and decontamination
Even if it's not an emergency, we can be there in under 60 minutes to provide:
Carpet cleaning
Furniture cleaning
Vent cleaning
These light cleanup services remove years of dirt, dust, spills, and stains from your floors, upholstery, and ventilation system. Your home will look and smell good as new, and you'll be breathing cleaner, healthier air.
24-HOUR EMERGENCY RESTORATION FOR FLOOD AND WATER DAMAGE
Flooding in the basement at 4:00 am due to a thunderstorm? Call us. Panicking as your leaking pipes soak your walls at midnight? We're already on the way. Our emergency restoration technicians provide the best and fastest service for Waukesha home flooding and water damage. We're available any time, any day of the year, because flooding doesn't happen on a schedule.
Check out our water damage restoration reviews to see how we've saved the homes of other Wisconsin residents, such as:
"Never thought we could be knee deep in water and our house would be destroyed. I had no idea what to do. Thank god my wife had your number. We would have been lost without you guys. Our house was a disaster. You and your special equipment saved our house. You are the best." –Brad Bender from Wisconsin
We guarantee 60 minute response times for cities within a 30-minute drive of our location. For Waukesha emergency water removal, it's about a 25 minute drive on I-94 W to a residence Bluemound Rd and about 35 minutes to Waukesha Dr.
If you have any questions or home cleaning emergencies, don't hesitate to call and talk to our friendly, expert staff any time, day or night.
WAUKESHA FLOOD ZONE HAZARD MAPS
If your Waukesha home is in or very near a flood zone, your basement may be more vulnerable to water infiltration. Check these satellite photos of Waukesha flood zones from FEMA's National Flood Hazard Layer to find out.