CUDAHY FLOOD RESTORATION
DISASTER CLEAN-UP SPECIALISTS SAVE YOUR HOME FROM WATER DAMAGE
If you live in Cudahy or the greater Milwaukee area, your home is at risk of flooding. Believe it or not, disaster flooding like when rivers overflow resident's yards is only a small part of actual flooding cases. The most common causes of home flooding are:
Sump pump failures
Plumbing fixture failures
Drain overflows
Groundwater overflows
Once your home is flooded, you have limited time to solve your water problem before greater issues begin to rise. Mold will begin to grow within hours and within days you'll have to remove mold growth or suffer health complications. Water damage will also take its toll, staining and rotting the wood in the home and the furniture. The value of the home will plummet and the cost of repairs will be astronomical.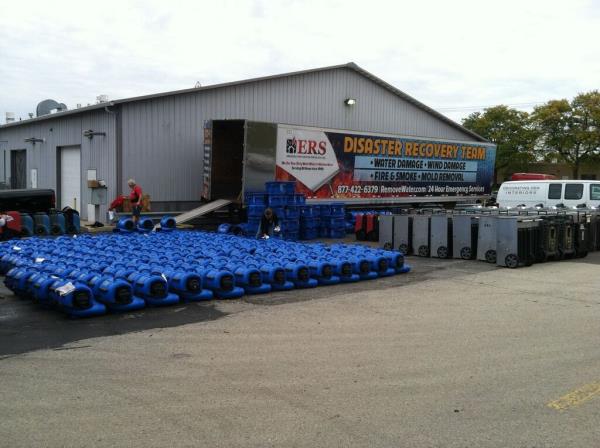 We leave these fans on site for a while, so we stock thousands.
WISCONSIN'S #1 DISASTER RELIEF COMPANY
Your safest bet to prevent any of these damages from consuming your life is to call ERS – the emergency restoration specialists. ERS restores homes affected by disaster-like situations. We specialize in restoring homes affected by:
Water and flood damage
Fire damage
Mold growth
Unique disaster situations
WHY IS ERS THE SAFEST BET?
All of our technicians are IICRC-certified: Being certified by the Institute of Inspection, Cleaning and Restoration is the equivalent of getting your Bachelor's Degree in Home Restoration. Our technicians are the best of the best and they're more than capable of bringing your home back into tip-top shape.
24/7 Service All Year (including holidays): Home disasters are indiscriminate of when they impact your life. They could happen in the middle of the night, on a Saturday, even Christmas Day and won't go away on their own. For this reason we help you at any time, regardless of the day.
Fast Response to Your Needs: We depart to your location within the hour you get in touch with us. Since we're already based right in Cudahy, we'll reach you even faster. ERS knows how important it is to resolve the disaster in your home quickly and we'll move fast to get there and restore your home to pre-disaster conditions.
Top Home Restoration Company in Wisconsin: ERS carries an A+ rating with the Better Business Bureau. We are also highly rated on Angie's List. In 2014, ERS received the Super Service award for our carpet cleaning division recognizing us as the top carpet cleaners. Here's what one customer had to say about us:
"Never thought we could be knee deep in water and our house would be destroyed. I had no idea what to do. Thank god my wife had your number. We would of been lost without you guys. Our house was a disaster. You and your special equipment saved our house. You are the best."
–Brad Bender from Wisconsin
This customer's rave review is just one of a long list of home restoration testimonials – and the list grows every day.
LIGHT CLEAN-UP SERVICES OFFERED
ERS offers light clean-up work along with our total disaster restoration. Look to ERS if you want years of stains, dirt and grime removed from your:
Carpets, tile and flooring
Furniture and upholstery
Ventilation ducts
We will make your carpets and furniture look just like new while improving the quality of air you breathe in your home.
If you come home to find your living room floating in two feet of water, now you know who to call: ERS – the top disaster relief company in the greater Milwaukee area. Don't lose value on your home, call today.
CUDAHY FLOOD ZONE HAZARD MAPS