Racine's Emergency Water Removal Team
We can get to your location in Racine in less than 60 minutes, any time day or night, 24/7/365 including holidays.
If you have standing water, every minute counts! Call us immediately so we can mitigate the compounding effects of water seepage and saturation at the lowest cost to you.
Get the water out fast- call ERS now.
24/7 Emergency response


414-571-9977


RACINE WATER DAMAGE RESTORATION
DISASTER & FLOOD RELIEF PROVIDED BY EMERGENCY SPECIALISTS
Common causes of flooding like drain overflows, groundwater overflows, sump pump failures or plumbing fixture failures happen to all homeowners. Every few years, Racine residents also experience severe weather capable of inducing floods– especially in buildings near the swelling Root River. If you have a water problem, count on Emergency Restoration Specialists. 24/7/365 we are here to minimize and repair water damage, getting you back to normal quick.
HOME RESTORATION ALL DAY – EVERY DAY
There are numerous reasons ERS is the best water damage restoration specialists in Wisconsin. Apart from our wide range of services, reliability, quality of work, and 100% customer satisfaction guarantee, we stand out from our competitors with complete availability. No matter the time or day, Emergency Restoration Specialists will be there in your time of need. We'll answer your call 24/7 and dispatch a team to your Racine home immediately, arriving within 1 hour!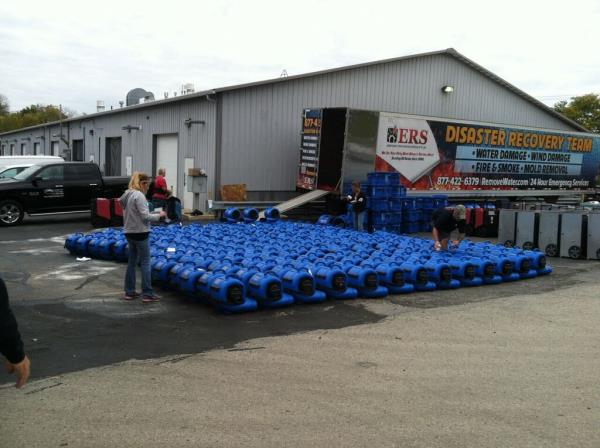 We have thousands of blower fans and other drying equipment
MINIMIZE WATER DAMAGE BY CALLING IN EXPERTS IMMEDIATELY!
Flooding causes many obvious and less-obvious problems for your building's interior. The longer you wait to dry everything out, the more damage is done to your home. Before you know it, the value of your home plummets and you're left picking up the wet, moldy pieces.
Inadequate flooding mitigation can cause:
More water damage to the home
Furniture, electronics, and valuables ruined
Decreased property value
Mold growth and health complications
Much more expensive repairs down the road
You don't want to deal with any of the above problems. Do something about them before they take root in your life: Contact ERS.
RACINE MOLD REMOVAL SPECIALISTS KEEP YOUR HOME CLEAN & COMFORTABLE
Sight and smell are the most common indicators of mold growth in your home. In many cases though, mold goes undetected. If your asthma or allergies are acting up more frequently inside your home, it's likely you have a mold problem. While most commonly found in bathrooms and kitchens where surfaces are frequently left wet, mold can grow on literally any damp or moist surface – including in walls and ceilings, under flooring and carpeting, and even in your air ducts. If there is standing water from a flood, you'll have a serious mold problem within a day if you don't have all water and moisture properly removed as soon as possible.
The mold removers at ERS are trained professionals, capable of identifying the source of mold and executing the best removal and treatment solutions for your specific case. Mold is difficult to avoid or prevent. Mold spores can enter you home through open windows and doors or carried in on your clothing; and as stated above, only need moisture to grow. If your HVAC system frequently creates moisture in your air ducts, mold will eventually grow. Mold spores will then be circulated throughout the air in your home when your heater or air conditioner kicks on. Those spores will latch on to new damp areas and start growing again, enlarging your mold problem. If you can visibly see mold growing on your air vents, or a musty smell is coming from the registers when your heat turns on, call ERS for a reliable solution.
PROFESSIONAL CLEAN-UP SERVICES FOR ANY EMERGENCY
If you live in Racine, ERS is the home restoration company you can trust to clean up the mess after any disaster. Specializing in water removal and flood damage repair, we'll get your home or business dry and restored back to its normal condition. You could save thousands of dollars on property damage by calling the restoration specialists at ERS.
Our professionals excel in more than just water damage cases. IICRC-certified, we're capable of any home restoration service. We provide clean-ups for disasters resulting in fire and smoke damage, storm and wind damage, and even special messes from hoarding to crime scene clean-up.
UNBEATABLE RESTORATION FROM EXPERIENCED DISASTER REPAIR PROFESSIONALS
These assaults on your home have the power to turn your life upside down, but with ERS by your side they won't be able to. We work hard to provide our customers with the best customer service in Southeast Wisconsin. Not only do we have an A+ rating with the Better Business Bureau, but we're highly rated on Angie's List. Here's what one customer had to say:
"Thank you, me and my wife owe you everything. Our house was a disaster and you saved it. You were super fast in getting out here at the late hours we contacted you. I thought we would of never been able to restore our house from the flood damage. I'm so glad we called you."
-Phil Johnson from Milwaukee, Wisconsin
This is just one example of a long list of disaster relief testimonials we've received. And the list is growing!
LIGHT CLEAN-UP SERVICES AVAILABLE
ERS also offers non-emergency cleaning services too. Our award-winning carpet cleaning service was hailed as the best carpet cleaning service of 2014 by Angie's List. The light clean-up services we perform are:
These services are all in the interest of taking years of stains, dirt and grime from your flooring and upholstery as well as improve the air quality you breathe at home. Take advantage of our top-rated services today.
If you have any questions or inquiries for us, feel free to speak with our friendly and knowledgeable staff ANYTIME. We look forward to serving you today.
ERS – the emergency restoration specialists saving homes and businesses in Racine and the greater Milwaukee area year-round.
FAST FLOOD RESTORATION IN SOUTHEAST WISCONSIN
A flood has the potential to permanently damage your home or business in Franksville, WI. ERS has experienced flood restoration specialists on hand 24/7 to respond to water damage at a moment's notice and remove permanent damage.
ERS promises 60 minute response times for all locations 30 minutes from our Cudahy office. Our specialists are only a 23 minute drive from Northwestern Ave and Kraut Road, ensuring fast response times for all emergencies in Franksville.
RACINE FLOOD ZONE HAZARD MAPS
If your Racine home is in or very near a flood zone, your basement may be more vulnerable to water infiltration. Check these satellite photos of Racine flood zones from FEMA's National Flood Hazard Layer.