Kenosha Water Damage Restoration
We can reach your property in Kenosha for water removal in under 70 minutes. ERS shows up any hour of the day, any day of the week, even holidays. You need to get the water out ASAP.
Call the best water removal and flood damage restoration company serving Kenosha. Call ERS.
24/7 Emergency response


414-571-9977


KENOSHA WATER DAMAGE RESTORATION
24/7 FLOOD RELIEF & MOLD REMOVAL SERVICES
The water damage and mold removal specialists at ERS are on call 24-7 to meet your flood and water problems head on. When the water table suddenly rises, frozen pipes burst, or poor drainage won't keep spring rains from your foundation, our restoration team is ready at a moment's notice. We'll clean-up and dispose of all unwanted water damaged items and remove all water and moisture from every affected surface; preventing mold growth and helping you get your insurance claim back faster.
ARE YOU PREPARED FOR FLOODING?
Flood damage is a real concern in many areas of Southeastern Wisconsin. In 2007, the Fox River in Kenosha County flooded hundreds of homes, even shutting down Highway 50. In April of 2013, the river flooded again, cresting at over 13 feet. When flooding affects your home or business, there's no time to waste. The longer water sits the more damage that occurs. Save yourself time, stress, and money by calling ERS as soon as possible. We'll dispatch a team of water damage specialists immediately to your location, no matter the day of year or time.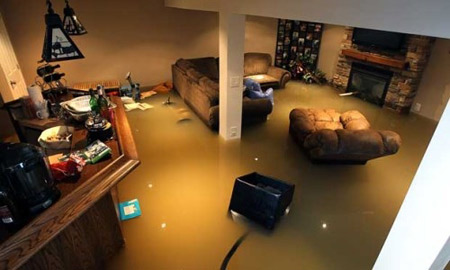 WE ACT FAST BECAUSE WATER DAMAGE DOESN'T WAIT
If you have standing water in your basement,(or any other area of your home / business) don't hesitate to act. From the minute water gets into your home, it begins to damage building materials and infiltrates wood, plasters, and drywall – costing you more the longer you wait to call for help.
If you have a flooding emergency, our technicians will arrive to your Kenosha property within 60 minutes of your call to ERS. We understand time is priceless in the case of a flood, so if our competition can beat us to your water emergency, we understand. When the water is gone though, call ERS for the best flood restoration services in Southeastern Wisconsin.
ERS FLOOD RESTORATION SERVICES
IICRC certified, ERS takes the worry and stress out of disaster aftermaths. Our team of flood-repair professionals performs an extensive list of flood and water damage mitigation services, including:
Water drainage & pumping – removing standing water is the first and most important step in flood relief, helping you gain peace of mind and reducing unnecessary damage. Injectidrying & blow drying – using high-tech drying technology, we address the unseen moisture that accrues beneath floor boards and in walls. Our drying techniques ensure floors won't warp or walls distort. It also prevents mold growth by removing the source.
Floor to ceiling damage renovation & replacement – if walls or floors are too damaged to repair, our restoration experts will replace them, getting your home back to its condition prior to flooding.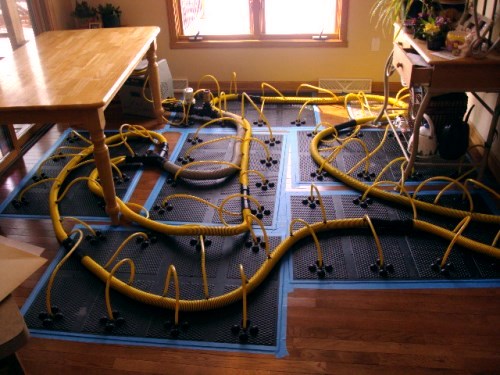 Carpet cleaning & replacement – wet carpet traps all sorts of contaminants, and if not properly cleaned can result in mold growth and foul smells. Whether your favorite area rug needs a deep cleaning or carpeting needs to be pulled up and replaced, ERS can handle it!
Mold removal – Moisture left in walls, floors, ceilings, under carpeting and on furniture will all lead to mold growth without the proper treatment. If water has sat for too long, or the company you chose to clean up the water didn't do the job efficiently enough, ERS will be there to identify the source of mold and eliminate the problem in its entirety.
Decontamination – floods often carry contaminants like soil, sewage, oil and more, leaving residues behind even after the standing water has been removed. Emergency Restoration Services specialize in ridding your home of the grime and dirt left over after the flood.
And more depending on the specifics of your unique case
WHAT STANDING WATER CAN DO TO YOUR HOME
Even after the waters recede, unseen damage can leave your home in hazardous conditions. Water can damage your home in the following ways:
Moisture absorbed in materials will cause them to expand, bow, warp and split.
Wood softens and loses integrity, leading to potential structural damage.
Bacteria, fungus, and mold will grow on moist materials and surfaces, rotting them away and producing unhealthy air conditions.
If you're a victim of flooding in Kenosha, choose a Water Damage Restoration Company capable of completely remediating your water problem and all related damage.
KENOSHA MOLD EXPERTS PROVIDE THE BEST IN MOLD TREATMENT & REMOVAL
Mold is an ever-present concern for homeowners throughout Wisconsin. All mold needs to grow is moisture; allowing mold to grow on virtually any surface, including walls, floors, carpets, air ducts, and more. Whether your home experiences flood damage or you suspect mold from a separate moisture problem, call ERS. Our technicians will provide thorough and complete mold removal services in Kenosha – from inspection to assess the extent of your mold problem, to treatment ensuring it won't return.
If you can see or smell mold, it needs to be removed as soon as possible. Symptoms of mold are similar to that of hay-fever (runny nose, itchy eyes, etc.). People with allergies, asthma, and other respiratory problems are affected the most by mold, generally worsening their condition and/or suffering. The longer you wait to have mold removed, the worse the problem becomes.
While your home may be clean, that won't necessarily prevent mold growth. Mold spores can blow into your house when your windows are open in the spring, or carried in on your clothing if you've been somewhere else contaminated by mold. When mold is inside your air ducts, it can be transferred throughout your home, negatively affecting the quality of your indoor air and being breathed in by your family and guests. Circulating through your HVAC system into every room in your house, mold spores can begin to grow in any other moist or damp areas. When you have a mold problem, big or small, call ERS for help.
KENOSHA FLOOD ZONE HAZARD MAPS
If your home is in or very near a flood zone, your basement may be more vulnerable to water infiltration. Check these satellite photos of Kenosha's flood zones from FEMA's National Flood Hazard Layer.