ST. FRANCIS WATER DAMAGE AND FLOOD RELIEF
WATER REMOVAL AND FLOOD RESTORATION SERVICES
Flooding and water damage to buildings in St. Francis is often the result of groundwater or drain overflows, plumbing or sump pump failures, and heavy rains or melting snow. Wherever the water is coming from, the damage can be devastating if not addressed quickly. Call our emergency restoration specialists as soon as possible to pump out the water, dry the floors and walls, and repair the damage.
With 60 minute response times guaranteed for homes and businesses within a 30 minute drive, we'll get to your St. Francis home or business faster than anyone else. We're only 7 minutes away from Layton Ave and 9 minutes from Lake Dr near Bay View Park.
ST. FRANCIS WATER DAMAGE RESTORATION
ERS is a complete disaster remediation company. We will remove the water from your flooded home, and will fix the damage that has occurred. Once disaster strikes your home, we begin working hard to get your house back in shape. Our services include:
Water Removal and Damage Repair – we are available 24/7 to fix your flood problem and get the water out of your house.
Fire and Smoke Damage Restoration – fire and smoke damage can linger for years in your St. Francis home without expert cleaning.
Mold Remediation – Where there is standing water, there soon will be mold. Mold can cause health problems in your home and will not go away on its own. Call ERS for mold removal.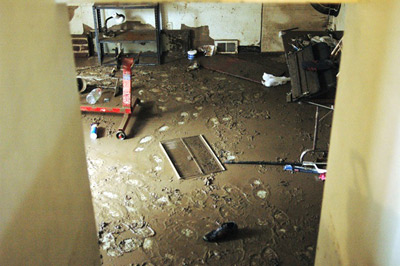 Special Cleanup – ERS performs decontamination of all types, from vandalism to hoarding damage and crime scene cleaning.
Light Cleaning – ERS are carpet and tile cleaners and will perform a variety of cleaning duties.
ERS PROTECTS YOUR HOME WHEN DISASTERS HAPPEN
The cleanup specialists at ERS have been helping SE Wisconsin families get their lives back in order after flooding and fire since 1990, and are IICRC certified. If your St. Francis home experienced damage from fire or water, call the experts to get it clean again.